Web Design

---
Web Sites

The following is a list of an example of links to various web sites created by Silver Love Designs. To view an active web site or full replication of a website, please click on the links. Thank you for visiting.
Geri Olsong Home Page
This is a site I custom designed for Geri Olsong, full professor (and now head of the psychology department) at SSU.The secondary pages demonstrate elequent ways of presenting texts along with links to class calendars.
Coinbeltsbysusie
Here is a site that I designed for Susie to put her in the business of selling on the web her coinbelts and other belly dancing attire. All graphics, including logo, are originals and customly designed for Susie. Within weeks of us first putting it up on the web, she landed a large order from a nightclub in New England for a decorative drape and has successfuly operated her business since using the Pay Pal feature on this site.
Everyone's Internet Career Center
This site is an example of only a one page presence, with a number of hyperlinks, with a business look and feel to the site.
Silver Elves
Please enjoy viewing one of my personal sites that I designed and while you are there, take a look at my home in hawaii. Also, you may wish to view our Pay Pal displays on the Books pages and pdf forms for ordering.


The following sites are now inactive:
Hatha Yoga With Judy Van Orden
This is a site I designed for Judy Van Orden in HTML during the Spring of 2000 using Photoshop editing and original graphics including the logo I designed for her in the Fall of 1999. There is a demonstration of the use of Gif Builder for animation on the opening screen.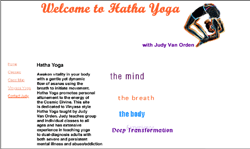 Midgley's Country Flea Market
Midgley's was targeted for a wide range general public audience.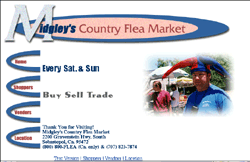 Happy Pets Supplies Store
Happy Pets is a demonstration site showing the use of double Javascript rollovers and an advanced collage to create a dimensional look to a website. The Canine and Feline pages are the only active links and demonstrate the look to the second level pages.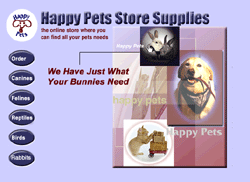 Palm Shores Tours
This is also a demonstration site using ImageReady and Javascript rollovers. The logo is an original image made in Illustrator and the opening screen collage demonstrates the use of layers in Photoshop for advanced digital imaging. The links to the Hawaiian and Caribbean pages are the only active links and demonstrate the layout of the second level pages.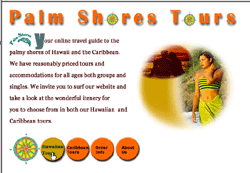 If you wish to discuss any of the sites above, or ideas pertaining to your own web site development, please contact Silver Love Designs at silver_love_@hotmail.com .
---
Home Page &nbsp &nbsp Services&nbsp &nbsp Web Design &nbsp &nbsp Graphic Arts &nbsp &nbsp Resume &nbsp &nbsp